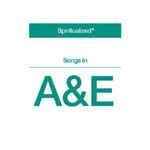 Artist -
Spiritualized

Title - Songs in A&E
Hometown - UK / death's door
Label - Sanctuary / Spritualized Limited
Street Date - 5/27
RIYL - Spacemen 3, Heroin, self destructive behavior, Harmony Korine tributes (this record was made side by side to a Korine soundtrack J recently scored and A & E features short instrumental interludes dedicated to the director), The Rolling Stones at their not very best, Lou Reed with a higher register
The Hits - Soul on Fire, Don't Hold Me Close, The Waves Crash In
Richter Magnitude Scale Rating: Moderate
Seriously, can we get this man some help? I know Jason Pierce AKA the man behind Spiritualized had been hospitalized due to double pneumonia (see, this is what long term drug use can do to you kids) for a lengthy stint but these songs don't give me a sense that we have ourselves a healed, healthy, and happy man. We have a decent body of work here but this sixth record,
The Songs in A & E
, have me a little worried. His body is a broken one.
The orchestrated choral power we know Spiritualized for is still there but this time it is minus the famous space and reverb. In its place is the stripped down ragged and aching voice of J Spaceman dispensing morbid lyrics spread out among 12 different kinds of laments. It hurts to hear a man so broken and while I wish I could say hurts so good (who doesn't like a little Mellencamp reference?) certain songs stretch into a desperate grating whine that I can't bare to take. ("I Gotta Fire", "Sitting in Fire"...what's with the fire thing anyway?)
Actually in a wired.com interview with J he responds to the fire question:
Wired: I'd say you've been through a trial by fire, but judging by the number of songs on A&E that have the word fire in their titles, I'd say you beat me to it.
Jason Pierce: That is accidental. I didn't even notice it until I wrote down the titles.
Wired: Seriously?
Pierce: Totally serious, the whole thing was written before my illness.... It wasn't easy to get back into what for me was an old record. I had to make it contemporary to where I was at the time.
"Death Take Your Fiddle" a song title that gives an obtuse hint to the unhappy theme the song carries a rhythm track that sounds like a person on a breathing machine. The sound someone of struggling to breathe, a sound associated with a person at death's door is an incredibly disturbing layer on top of the music. It takes the life struggle / death theme to a much higher level.
"Soul On Fire", the first single of the record states that "Baby, you never should say never, I got a hurricane inside my veins and I want to stay forever." This could be an IV drip dedication but it could just as easily be a heroin anthem too. Good or bad drugs, J needs to find a new, slightly healthier obsession either way. J says these songs were written three years ago, before his illness so maybe at the time he had love and passion pumping through his body. Maybe? The optimist in me hopes this is the case but any knowledgeable Spacemen 3 fan would probably laugh in my face for trying to stray away from the drug theme.
"It's so hard to fight when you're losing. And I gotta a little tear in my soul. And in my own time I am losing fast and I can't even hold what I own." The song "Sitting on Fire" goes onto repeat and ends on "It's so hard...with the addition of "in my own time I am dying and I can't even hold what I own."
"You know I got the scars to say I'm here" ("Baby I'm Just a Fool")
"Daddy I'm sorry I borrowed your gun again...shot up your family.....shot up my mother, my beautiful Mother. Hold out your hands I'm coming home. Hold out your arms, I am all alone. My mind is made up and I'm down on my luck. I've run out of bullets again." ("Borrowed Your Gun")
The lyrical examples of darkness and depression go on and on. Sure one could also argue there are statements of a fighter among his choice of words too but that hope lies on a razor blade's edge.
I wonder what his friends and family make of a record like this. I couldn't listen to these songs in a passive manner. I can only hope that the man who wrote these songs three years ago has been left behind in a retired hospital bed and the man who walked out of the infirmary is a new and revitalized being. Hopefully Songs in A & E will be his last celebration of the needle and the damage done.
There are two version of the records, a regular as well as a deluxe version plus there is a limited run on vinyl too. (UK only)
About the special edition :
"The main format for Spiritualized's new album will be a typically lavish affair with a 32-page booklet (above) referencing Pierce's recent illness – a bout of double pneumonia that necessitated a lengthy stay in intensive care and nearly killed him, hence the title, Songs In a&e. The starting point for the design (which was an 18-month process, work in progress shown above) was a set of photographs of Pierce in the icu taken by his girl­friend. Pierce had countless needles coming out of his arms, connected to various drips. He, Farrow and the main designer on the project, Gary Stillwell, were struck by the beauty of these functional objects. "The idea was to elevate them and draw attention to them," says Farrow. "They are incredible things … on a completely la-la level I love the fact that [in the photographs] they look like pinned insects, they take on a beauty when you see them presented in that way…." The jewel box edition of the album will feature a fold-out poster of the needles on one side"