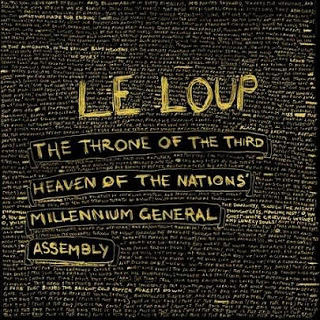 Artist -
Le Loup
Hometown -Washington, DC
Label -Hardly Art (Division of Sub Pop)
RIYL - The Books, NPR approved artists, panda bear's bedtime stories, Tunng, folktrnicana, a one man Menomena, Angels of Light
The Hits - Planes Like Vultures., Outside of this Car, Le Loup
It isn't the best sign in the world that after 10 or so listens (nine more lives than most new records get in my home) I am still left mostly uninspired by Le Loup. Le Loup which is a semi-clever way of disguising the fact that this is yet another band with an animal name, only in French. Le Loup means the wolf. (I am politely hiding a yawn behind my raised hand to mouth right now)
The veteran listener in me says The Books do this whole experimental folk-pop better and did it first but there is undeniably some substance to the songs written and performed by Sam Simkoff, the man behind Le Loup. These are not big splashy pop songs, they are a more humbled offering where melody wears a harness and is dictated through a banjo, a computer, and what sounds like a bedroom studio with just one mic. His lyrics rise up in cloud form billowing like smoke signals overlapping nightmares with daydreams.
The atheist academic in me is tempted to make connections between the record's heavy ode to Dante's Inferno, the lengthy album title which is a tribute to a folk art piece created by a man whose art was a religious vehicle, lyrical content which clearly reveals the author to be amidst a spiritual journey ,and wonder if this is a Christian record.* This could just as easily be a conceptually dense piece of work by a well read cultured individual. And really it isn't any of my business what the belief system is of any artist... but as a matter of personal taste I tend to leave artists like Sufjan at the door. No offense to my Christian Rock friends but I admittedly tend to sit on the secular side of the fence.
Le Loup in this debut recorded form is pregnant with talent but The Throne of the Third Heaven does not give birth to it. Since the making of this record Le Loup has grown from just one man into a 7 piece band and after seeing them just once live you too will ache for a recording that puts six more layers on top of this one man's sturdy foundation. I appreciate The Throne... but it won't makes its way onto my stereo all that often if ever. I will however continue to see them live and look forward to their sophomore release.
*
Please see comments section for a Le Loup band member reply to this question.