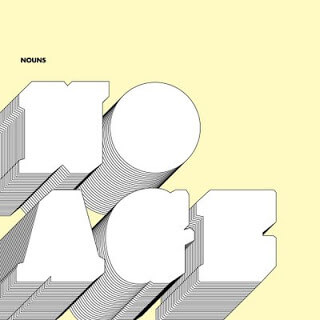 Name:
No Age
Title: Noun
Home: L.A.
Label: Sub Pop
Street Date: May 6
RIYL: Shoegaze, sonic pop, two piece bands, The Liars, Wives, bands named after SST Records collections, and duos who collaborate as artists without instruments too.
The Hits: Miner, Eraser, Things I Did When I was Dead, Sleeper Hold, Impossible Bouquet
The definition of art rock(Wikipedia):

"Art rock is a term used to describe a sub genre of rock music with "experimental or avant-garde influences" that emphasizes "novel sonic texture."[1] Art rock is an "intrinsically album-based" form, which takes "advantage of the format's capacity for longer, more complex compositions and extended instrumental explorations.[1] The Golden Age of Rock lectures define art rock as "a piece of music in the rock idiom that is appealing more intellectually or musically, that is, not formulated along pop lines for mass consumption. It's usually somewhat experimental. It often employs a long structure with several themes like classical music, though sometimes it's a suite of individual songs. One unifying feature is that Art Rock almost always features keyboards more than guitar." As well, art rock is "not so much for dancing as for listening and it often tells a story or has a philosophical theme to the lyrics.""

No Age, Considered an art band by scenesters and critics alike is a label that I am uncertain they fully deserve. They are noisy, unbelievably so for just two guys, but somewhere buried beneath the cacophony of sound are old fashioned pop songs.
Lyrically, if in fact we take the definition of art rock seriously, read more like
spam accidental poetry
. Come to think of it, accidental poetry might be the best way to genre-fi this group musically; it is a much more honest tag than art or noise band.
No Age sounds like if every K Records and Sub Pop band played all at once as a symphony, one half playing EVOL and the other half playing Loveless. They are a beautiful sonic mess with vocals for those who aren't so worried about pitch and CD packaging as layered and thick as the music on the disc itself.
I've been trying to work out an angle or the reasoning behind the record being named Noun and I'll be damned if I can find something clever to say about that. A CD is a noun. A band is a noun. Some of their song titles refer to nouns. Together they form a pack of nouns. Maybe everything doesn't have to be for a specific reason and I should just leave it at that. A little mystery in art is a good thing.
Perfectly imperfect Nouns is an enormous collage of color, sound, and concepts just abstract enough that it leaves plenty of room for your imagination to work with it.
If you pre-order the release from
Sub Pop
by May 6th (tomorrow) "you'll receive a limited-edition poster featuring an Ed Templeton photograph of No Age, covered with a drawing by this same, broadly-talented artiste, Mr. Templeton."