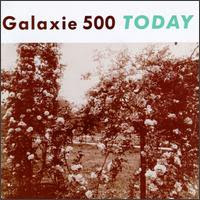 It seems a little skronky to me that there doesn't appear to be much Galaxy 500 material available in much of the digital world. What the hell?
I recently purchased the first LP (Today) and was quickly reminded as to how phenomenal this band was / still sounds today. I know that when a band breaks up there isn't usually a funeral to follow but I imagine that if the Velvet Underground ever needed a worthy slow paced sonic dirge to lead a New Orleans style memorial parade , Galaxy 500 would have been the band to do it and groups like Yo La Tengo and The Flaming Lips would be standing among the procession saying AMEN.
In 1988 Thurston Moore claimed Today to be his favorite record of the year and after playing it again tonight, I understand why he said it.