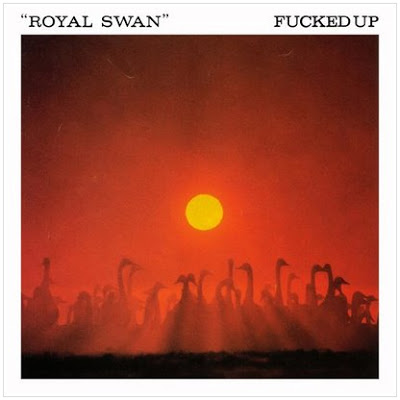 Take from the
Matador site
(they are putting out the new FU record) - and could the list of guests be accurate.? Woah.
To celebrate the release of
The Chemistry Of Common Life
, in stores this coming Tuesday, Fucked Up will be playing live for twelve hours straight at a storefront in New York City THE FOLLOWING TUESDAY.

On Tuesday, October 14, from 2PM until 2 AM, the band will be playing a twelve-hour show at the Rogan store at the corner of Bowery and Bond. Admission is free. All ages are welcome to attend, though the free alcohol will be limited to those 21 and over. Additionally, a free limited-edition 7″ of "Royal Swan" will be given away to the first batch of attendees, with a second allotment given away at a later time in the show to be announced.
Special guests will be joining the band on stage to help them through this marathon, including the Vivian Girls, John Joseph, Matt Sweeney, Chain Gang, Mobb Deep, Ryan Sawyer from Tall Firs, Jeff Jensen, David Cross, John Cale, K-Taro, Chris Doherty,
E.K.
, DJ Chris, DJ Anarki, Michael Gira, members of the Australian Scapa Flow, Jeanne Bovet, Gods & Queens, Akon, The Edge, Ben Blackwell, Russell Simins, the Boogie, and some megastars we can't announce yet.
Seen above is the cover to the limited-edition 7″.
It is an easy guess that this 7" will quickly become one of the biggest collector's items of this decade. Note to self: email friend at Matador to see if I can score a few copies of the record. God knows records are a better investment than stocks these days.