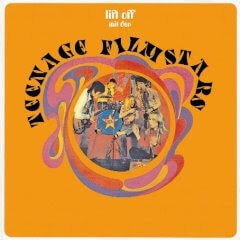 Artist -
Teenage Filmstars
Title - Star
Hometown - UK
Label - Artpop! / Cherry Red
Street Date- Out Now
RIYL : What is an artist still riding the MBV wave. Ca-ching!
The Hits - Inner Space, A Dream with a Dream, Love is Blue
Richter Magnitude Rating Scale - Moderate
I can't wait until My Bloody Valentine puts out the new record shoegaze fans have been waiting for since the early 90s so the press and everyone else can go on with their lives. Thanks to this never ending renewed interest in shoegaze and now shitgaze I really can't take any more MBV talk or reissues of bands using quotes from MBV members to hype the "relevance" of their release.
Wanna be hipsters might try and tell you this reissue of the 1992 'Lift Off Mit Der Teenage Filmstars' is better than anything by MBV but this is just their elitist cranky way of trying to make you feel like you should know this group when in all honesty, Teenage Filmstars should be more like a footnote to the pysch-drone with buried vocals movement.
Don't believe the hype.
On Star you will find looped layered fuzzy songs that are frustratingly repetitive and drag on for too long. Every song is a little too busy for my taste - as if Teenage Fanclub is wailing out guitar solos over Loveless as performed by T Rex. Most every song is over stuffed, beaten to death and drowned in reverb. Rather than layer after layer working together to form a gorgeous heavy blanket of noise they compete and fight scream like cats in heat.
If you really want to pull some old band out of the hat that deserves more attention I will forever sing the praises of
The Swirlies
. And no I don't like them because not as many people seem to know about them, I loved them more than any other shoegaze band back then and still do now.
The most exciting thing about TF for me is that main member of the group
Edward Ball
was not only an executive at Creation Records but was also a founding member of the Television Personalities who played on the first three classic TP records.
And Don't the Kids Just Love It
(1981, Rough Trade)
Mummy Your Not Watching Me (1982, Whaam!)
They Could Have Been Bigger Than the Beatles (1982, Whaam!)
There is also a brand new reissue of Ed's other band The Times which you can read about
here
. This band was Ed's post TP project and as you might expect, there are hints of TP minus the crazy.
Ed recently revived his old label Artpop! (which is quite a nice name for the genre he romps around in) and it is Cherry Red who has taken it under their wing and given it proper distribution world wide.
This is the video for "Kiss Me" by Teenage Filmstars.
And here is a video for The Swirlies' "Bell" :