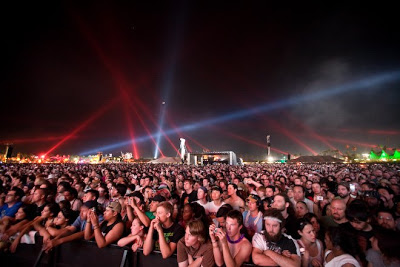 In celebration of everyone's favorite music fest held on a polo field in the desert, we will be featuring many of the artists who took stage at Coachella 2009. No need to bake in the sun or wait in a long line for over priced food/drinks , you can enjoy these artists from the comfort of your own home or wherever you may be listening.
If you aren't familiar with Coachella - check out their site
here
.
Tonight from 7PM to 9PM on Cause & Effect you can expect to hear music by: Lykke Li, A Place to Bury Strangers, Kala, MBV, Crystal Castles, Vivian Girls, Fucked Up, M. Ward, The Horrors, Superchunk, Gang Gang Dance, and oooohhhh so much more.
PS: As an extra bonus because I am sick sick sick today there won't be nearly as much chatting during the show and when I do talk everything comes out clumsy and muddled. Good stuff.