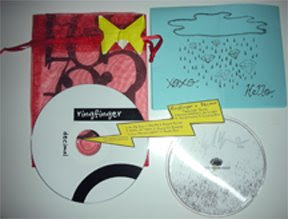 Limited to a mere 100 - this is a very special DIY pressing. It comes in a red bag with the CD of Decimal, a lightning bolt track listing, black number paper, a little book, a coaster with album art hand signed and numbered by me, an origami prize, and it was all put together by hand by just me.
Also available now from our label is our first proper release, Fits & Cycles on CD by Cinemasophia. You can buy it on line from our .com too and it is also limited to just 100 and hand numbered. The LP street date is still TBD.

One last thing. I believe Magic Bullet is repressing my LP so the first pressing of 500 is sold out in most places. I think we have just a few of the original pressing left at our web store.