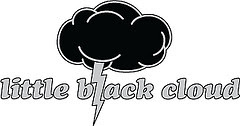 Label Statement:

The world needs another record label probably like it needs another band (shake head left to right and back again here) but there is always room for one more great label and a few more great bands. Right? Right.

We know a label is only as good as the records they put out so LBC will be releasing a stellar new release (vinyl and digital only) by Cinemasophia called Fits & Cycles which will kick off the label in early 2009 with a bang.

Little Black Cloud Records is three points of right...three friends (NJ/CA/VA) dedicated to releasing records so good that it will remind people why they started collecting records in the first place. Life is too short to release subpar music and it is not our intention to add to the gluttony of crap music already over-saturating the marketplace. It is LBC's goal to bring forth their obsession- bringing awe inspiring records to life so even the most disenchanted music fan will have something to smile about.

Primary contacts:
PR:
Solid PR

Websites:
myspace.com/littleblackcloudrecords
Facebook (become a fan damn you!):
http://www.facebook.com/home.php?#/pages/Little-Black-Cloud-Records/40594777335?ref=nf
Artist Roster:

Cinemasophia
Dynamic Truths
Ringfinger
Upcoming LBC Releases for 2009 (more to come)
· Cinemasophia – Fits & Cycles (March 3, 2009) – digital and LP
· Cinemasophia – reissue of Whole Ghosts + Dialectic – digital only
· Dynamic Truths – Discography – LMTD CD / Digital / possible 7" – late Spring 2009
· Drekkingarhylur (Runhild Gammelsæter of Thorr's Hammer / Khlyst + Tracy Wilson of Ringfinger/Dahlia Seed) - Title TBD
(Fall 09)
LBC Releases To Date
· Ringfinger – Decimal – LBC 001 (LP via Magic Bullet)
*********************************************************
Cinemasophia
Websites:
http://www.myspace.com/cinemasophia
cinemasophia.blogspot.com
http://www.facebook.com/pages/Cinemasophia/51024006561?ref=s
Hometown:
Richmond, VA / Brooklyn NY
The Members:

Elise Steenburgh: vocals, keyboards, samplesJohn Merchant: vocals, guitar, bassJay Ward: vocals, bass, guitarLandis Wine: vocals, guitarDan Cottner: drums
RIYL:
90s American boy/girl shoegaze (Swirlies + Lilys), Polvo, The Sounds of Kaleidoscope, a more subversive version of the Stars or Death Cab, people who dig Slumberland bands.
The Scoop:
More to come on this band as we get closer to the release of their new record in early 2009 but what you need to know is this: LBC Records fell in love with this band in a big way and decided they were way too good to let some other label have them.
To put it simply Cinemasophia are a top notch indie rock band with all the twist and turns of a world class rollercoaster.
Discography:

· Fits & Cycles (March 3, 2009) – digital and LP
· Whole Ghosts CD only to date
· Dialectic – CD only to date
About the band / written by the band:
1.Played with Grizzly Bear, The Rosebuds, Dirty Projectors, Lilys, Asobi Seksu, Spokane, and many others.
2. Released two albums thus far: Dialectic in 2004 (recorded in Landis's grandmother's basement), and Whole Ghosts in 2007 (recorded primarily in the Outer Banks)
3. Formed in 2004 after the recording of Dialectic by Landis and Jay.
4. Jay, John and Landis have known each other since they were six. Played in competing garage bands since 7th grade.
5. Fire nearly consumed Sound of Music studios on the day the band was set to begin recording Fits & Cycles.
6. Never successfully made it through a record with an entire line-up in tact (14 total members since the recording of Dialectic)
7. Wrote and rehearsed Fits & Cycles in a dank shed behind a house in Richmond last Fall while consuming Mickey's and battling the elements.
8. Have never toured with less than two vehicles. (Massive carbon footprint)
9. Approached by John Morand (producer of Camper Van Beethoven, Royal Trux, Labradford, Sparklehorse, Breadwinner, Daniel Johnston) to record what became Fits & Cycles during band practice one day when he taped a track sheet to the door of our drummer's apartment building.
10. Almost broke up during the creation of these bullet points.
Cinemasophia Tour Dates :
The band is available for interviews and there is a LIMITED 5 song sampler / tour ep available upon request (see LBC Myspace page) - 2 songs from the upcoming record Fits & Cycles, 1 track from their two earlier releases, and 1 live track.
·
The Czar
Richmond, VAThursday, January 15 at 9:00pm
·
The Bridge PAI
Charlottesville, VASunday, January 18 at 8:00pm
·
Cake Shop
New York, NYThursday, February 19 at 8:00pm
·
Reservoir Bar
Chapel Hill, NCSunday, February 22 at 8:00pm
**************************************************************************
Dynamic Truths

Hometown: Richmond, VA

Formed: 1996 Disbanded: 2000

Members:
Bob Schick – (Honor Role / Coral) all songs - vocals
Dave Jones – all songs - guitar
Bill Walker- (Coral) – all songs - drums
Chip Jones- most songs (Honor Role) – most songs - bass
Will Gavin – 1st bass player

A rotating cast of characters depending on the recording session:

Ricky Tubb – (Waking Hours)
Clancy Fraher (Technical Jed)
John Gotschalk – (Tree Fort Angst, One Ring Zero, Kinevils, Red Hot Lave Men)
Steve Brooking – (Technical Jed)
Fred Schick

Discography
Dynamic Truths Discography 96-00 - coming summer of 09
Merge Records 7" You Take It All / Exit Screaming 1998
A track (Understanding is Overrated) on an early Yep Rock comp

RIYL: Honor Role, Coral, Merge Records catalog completists, Alternative TV, The Fall, Gang Of Four, Joy Division, Superchunk, Modern Lovers, Hot Snakes, Chris Thompson bands, PIL, founding fathers of math rock. noisy NZ 80's bands, Early Echo

Influences: Alternative TV, Modern Lovers, shoegaze, NZ Flying Nun bands, Post-punk, not wanting to do a repeat of Honor Role or Coral, Leatherface

The Scoop:

I would love to be able say if you loved Honor Role and Coral you will love the Dynamic Truths too but sadly these are bands still unknown to most indie music enthusiasts… even though Merge Records has been singing their praises and releasing many of their records over the years.

These were Richmond Virginia bands that pretzel knotted hardcore ALA Husker Du circa 1983 to a groundbreaking style now called math-rock with a biting vocal attack in the realm of Mark E Smith. To further add to the band's weight consider lyrics that read like Raymond Carver fronting Fugazi and there you have a rough idea of what Honor Role and Coral were about and then in turn what Dynamic Truths grew out of.

What amazes me most about these songs, 98% of which were never released, is how well they have survived the test of time. They could fit on a mix along with the best of 80's British post punk, 90's angsty indie rock like Superchunk or Circus Lupus, any band featuring John Reis or Rick Froberg, and then modern acts like Wilderness.

DT never toured and only played a small handful of shows during their time as an active band. The good news is with the release of this discography we can look forward to a reunion show or two.

Your welcome.