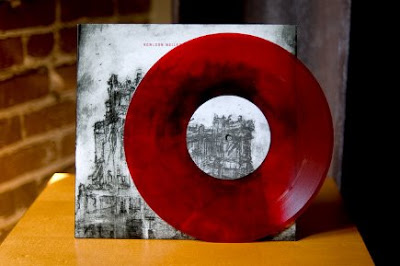 I have them to thank for this ridiculously good and limited 10" called Turk Street by
Kowloon Walled City
. Here is what
Aquarius
says about the record and now that I have it on my turntable I can say that they are dead on.
"Think Unsane, old Helmet, the Melvins, Buzzov-en, Neurosis of course, this is some seriously heavy shit. The guitars massive and downtuned, a relentless sea of roiling chug and churn, the drums dense and pounding, the vocals a throat shredding howl. The AmRep vibe is all over these songs, the sound incredibly thick and corrosive, the rhythms alternatingly pounding and lurching, most often settling into a lumbering almost-groove, the melodies buried amidst the crunch and rumble, sometimes surfacing as the band slips into something more dynamic, letting the guitars moan and keen, the drums getting all spacious, sheets of Eyehategod style feedback, a weirdly doomy sort of abstract sludge, before slipping back into a furious grinding metallic crush. Pretty fucking excellent, and definitely has us looking forward to finally seeing what we missed that fateful night.

The vinyl is limited to 300 copies, and is pressed on cool swirled red and black vinyl. The cd-r is limited to 100 copies, packaged in super nice, silkscreened cardstock style sleeves with a printed insert, each one hand numbered. "

My secret to keeping up with new and old metal is joining the Aquarius email list. I highly recommend adding your name too so you won't miss out on these kinds of records. The really good shit that is scary limited.