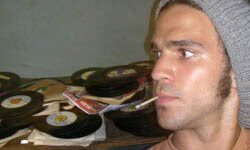 Even for those people already in the know about
Kutiman
and his multi-instrumentalist compositions, this new album is inspirational. Kutiman normally graces us with jazz, funk and afro-beat purposefully written on live instruments. For his latest project however, he has chosen a very different medium. All of the songs on Kutimans new record were created using nothing but clips from YouTube. He skillfully chose, sampled and dissected choice videos from the vast collection of random unrelated material that the internet delivers. The result is awe inspiring and extremely pleasing to the ear. The added bonus of using YouTube clips is that there is built in video to accompany each track.
All songs on the album are viewable on his website -
http://thru-you.com/
.
Enjoy.