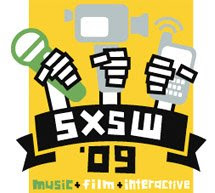 Don't feel bad if you couldn't make it to Texas this year for SXSW because I will be playing two hours of music by bands playing showcases there. The good news is you don't need to shell out big bucks for a plane ticket and pass to listen to my SXSW show. Plus won't have to sit in some crappy bar and suffer through hours of bad music to see the one band you were hoping to check out.
This is a slight departure from the usual theme of Cause & Effect but my better DJ half is out this week so in turn it didn't feel right to do a normal show without him. For yet another change of pace I will have a second DJ on air with me tonight, Derek Sunshine will be sitting in with me and spilling forth his wonderful knowledge on all the bands in the cue for tonight.
I opted to stray away from some of the more obvious big bands tonight so in their place will be a list of mostly lesser known bands that I have been super excited about as of late. This list includes:
The Manhattan Love Suicides, Wavves, Marching Band, Theoretical Girl, Indian Jewelry, Maps & Atlases
and for a special treat - a brand new never played on air anywhere track by
The Cloud Room
which is from their new record. You won't hear this song anywhere else in the country so how is that for a special treat?
DJ Alex - come back soon and and a big thanks to Mr. Sunshine!
Women
Indian Jewelry
Friendly Fires
We Were Promised Jetpacks