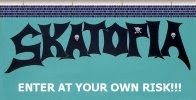 Skatopia
is a place to both love and fear.
Now a
movie
will take us on the inside of this wild place.
Above all, you have to respect it. All hail Brewce.
Since this is a music blog, I should mention that
Die Huns
make an appearance and Corey Parks breathes some fire, of course.