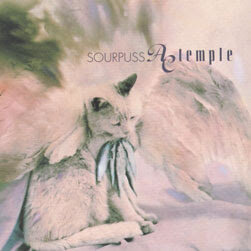 Artist
- A.C. Temple
Catalog
Blowtorch - 1988 - Further Records / 2003 mute
Sourpuss - 1989 - Blast first (Jon Langford produced)
Belinda Backwards - 1991 blast first (and I am sure I am missing some!)
Hometown-
Sheffield, UK
Thinking back to the early 90's and the music I once bowed down to, I have no idea how A.C. Temple never hit my radar. In fact it wasn't until last year a friend loaned me a few of their records because he suspected I would fancy them.
He was right.
They are a perfect blend of so many genres and bands I love…only A.C. Temple was doing it before many of these newer groups. I was undeniably an old school emo indie rocker kid (still am I suppose minus the kid part) so my point of reference here is the early to middle years of Dischord Records. Some of the great guitar bands to come from San Diego like Pitchfork and Drive Like Jehu. The classic Chicago / Touch and Go sound. American and British variations of Riot Grrrl. Anything Sub Pop from the late 80's up until the mid 90's. UK and US 90's shoegaze and last but not least the more slightly dissonant noisy groups like Sonic Youth.
In high school I didn't know about groups like Lilliput, Kleenex, Delta 5, The Slits, The Au Pairs, The Raincoats….but I have discovered these artists between 1988 and now and still I wonder how A.C. Temple records didn't make their way into my collection sooner. This band and their catalog of music is equally as poignant and pertinent as any of these other groups yet for some reason A.C. Temple never made it to the underground music hall of fame.
Does A.C. Temple really fit into the same musical family as ALL the groups mentioned above?
YES! (I suspect for some people this group might sound a little too derivative of that decade but they were ahead of their time damn it so be nice!)
It's a shame really but I understand just because a band is decent doesn't mean they will stand the test of time no less earn a press buzz equal to other bands similar in sound or on the same label. Maybe A.C. Temple was over shadowed by label mates like Sonic Youth or The Butthole Surfers. Maybe A.C. Temple didn't tour America much or at all. (I actually have no idea if they ever played the stateside)
Whomever or whatever is to blame for their invisible popularity all I can do now is share my admiration for A.C. Temple and let you know their records are relatively easy to find used on line and in your better record stores. I have never seen one of their records go for more than $15.00 so hunting down their catalog shouldn't be too taxing on your bank account either. As luck would have it I found Sourpuss last night at the record store Crooked Beats in Washington, DC for $12.00. (And if you ever find yourself in our nation's capital make sure you swing by this truly impressive shop. It will be worth the trip, I promise.)
There is a
Myspace page
to A.C. Temple but I am posting my favorite two songs by the group
here
.