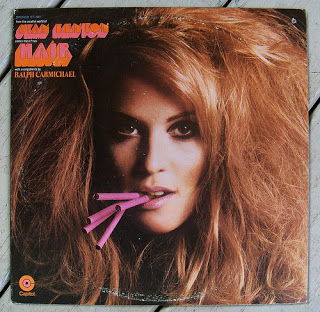 Artist
- Stan Kenton
Title - From the creative world of Stan Kenton comes music from Hair
Arrangements by - Ralph Carmichael
Hometown - Wichita, KS
Label - Capitol
Year - 1968
Shallow is what some may call it but when I see a cover such as this one, a Bardot-esque Bond looking girl with a touch of a big haired Jersey hesher, heavy on the eyeliner with (count em') five smokes danlging from her pouty pink lips, I buy it.
At the time I didn't know Stan Kenton was a the bad boy of big band leaders but the back cover hints at what a listener could expect from his versions of songs from the musical Hair. "Here's Hair the Kenton way, complete with a score and a half of musicians who play everything from the mandolin to the flugel horn, joined by a dozen boy and girl singers who rocked so hard during the recording session that they raised the hair on everybody's head.." Rock hard you say? Well maybe not exactly that but the cover goes on to call Stan "free-swinging" and that is in fact a little closer to the truth.
By the mid 1940s Stan Kenton had outgrown the traditional big band dance leader roll and began working towards a sound he coined "progressive jazz", not exactly a wildly radical version of Jazz but still experimental for the time (tinged in Latin). I found a great quote about Stan's music through the 50s and into the 60s "The music was never predictable and could get quite bombastic, but it managed to swing while still keeping the Kenton sound."
The opening track on side one of "Aquarius" begins with an unexpected and unsettling horror movie like howl from a horn section that picks up steam and moves towards something undeniably groovy in seconds flat. It peaks out a powerhouse punch of a vocals typical of the 60's sunshine pop movement but the song keeps taking sharp dynamic turns which keeps your ears guessing what could possibly come next.
Another favorite track "Colored Spade" carries a dense heavy funk feel that could have easily been used by the Beastie Boys for Paul's Boutique (but alas it wasn't). The brass section on this track pushes it over the edge and the end result is some sonic kick ass soul.
Ultimately this record is typical of so many of my campy 1960s swinging jazz records in the fact that the whole record doesn't hold my attention. I fancy one or two tracks and that's that. This isn't to say Kenton's take on Hair is a failure, it isn't, but in the world of DJs looking to impress an audience, you have just a few tracks to win them over with.
You can check out my two favorite songs
here
.