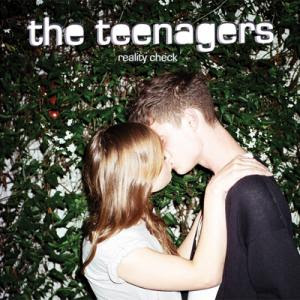 Artist -
The Teenagers
(and I am using the term "artist" loosely here)
Title -Reality Check
Hometown - Paris, France
Label - XL Recordings
Street Date - 3/18/2008
What better way to celebrate the exit of St. Valentine's Day than with a spew of hate for The Teenagers and their ear poison which XL Recordings is releasing on 3/18. I am sorry to review something that isn't out for another month but I can't help myself. People need to be warned now!
And what does a band that makes me vomit a little in my mouth every time I hear them sound like?
The Teenage dabble and fail in something vaguely resembling a no wit Pulp- in heat- at a disco. Then imagine being machine gun blasted by smug American pop culture references (the only thing more annoying than Nicole Richie is an amateur synth-pop song about her) via an oversexed French guy to music so elementary and soulless that the demo song on the first home Casio keyboard out rocks them.
And no this isn't an anti-French thing, I own more French pop than most; all be it mostly 60's Yé-yé Girl stuff.
The press blurb on the CD says "While the group left their teenage years a few years ago… they're in love with the idea of the dream teen, inspired by sunset walks through the park, clogging up shopping malls for no good reason, holding hands, and stolen kisses in the cinema." Had this music been created by kids I might be a little less cruel and have a sense of humor about these songs but now that I know creepy grown ups made this crap on purpose I find my digested dinner trying to make an escape out my mouth again.
If you are looking for adults with a sense of humor celebrating youth using sexual overtones but in a clever way then please allow me to suggest the entire
Beat Happening
catalog. If you want music that sounds like it was created by mentally disabled people then please check out
The Kids of Widney High
who also make records but are actually part of a special education program and worth your respect.