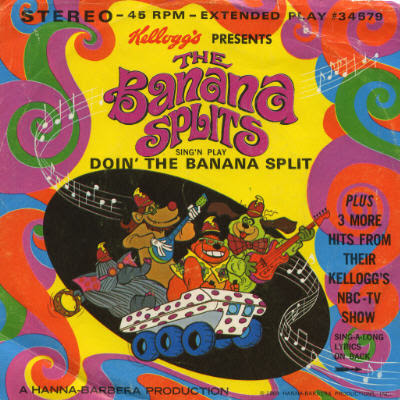 Artist
- The Banana Splits AKA Barry White (THE BARRY WHITE!!!) , Joey Levine (writer of Yummy Yummy Yummy"), Nelson B. Winkless Jr (also wrote opening theme to the Banana Splits which Bob Marley lifted for the chorus of Buffalo Soldier) and Hoyt Curtin (who composed music for the hit Hanna-Barbera shows like Josie and the Pussycats, The Jetsons, and the Flintsones to name a few)
Title
- Kellogg's Presents (yes the morning breakfast cereal people) The Banana Splits Sing'N Play Doin the Banana Split
Label
- This is a bootleg of the original 1969 Kellogg/Hanna-Barbera Productions 7"
From 1968 to 1970 NBC ran an hour long children's show called The Banana Splits Adventure Hour. The Hanna-Barbera show was sponsored by Kellogg Cereal and it featured live action comedy of a 4 piece band of far out animals (think H.R. Pufnstuf meets the Monkees) broken up by a series of various cartoons. Like many shows of this era there was undeniable psychedelic vibe to the episodes and the music was no exception. In synch with the airing of each season, Kellogg cereal offered a coupon on the back of their cereal boxes where kids could mail order two different 7" EPs of the Banana Splits music.
This bootleg 7" is one of these two singles.
I couldn't remember for the life of me what the music on the show sounded like beyond the opening theme but when I saw the 7" sitting in the Plan 9 record bin, I knew I needed to buy it. regardless. Much to my amazement the music is really, I mean REALLY good. Check out this great blog for a more detailed description of the record
here
.
Doin' the Banana Split is an absolute must own top notch heavy funk classic and the other A Side song "I Enjoy Being a Boy" is a glorious sliver of groovy psych pop that could just as easily be a Television Personalities' song. I have posted both songs to my Myspace page so you can check out these gems
here.