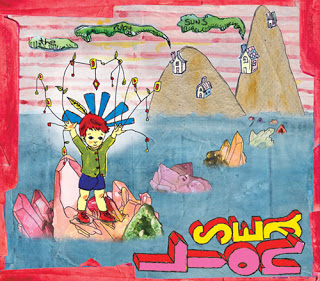 Artist:
The Ruby Suns
Title:
Sea Lion
Hometown:
Aukland, New Zealand
Label:
Sub Pop (in the USA)
Street Date
- March 4
Favorite Tracks:
"There are Birds" (and that is coming from a girl terrified of birds) / "This Adventure Tour" / "Kenya Dig It "
RIYL:
Os Mustantes, 60s sunshine pop with a hint of exotica and wall of sound production values, Animal Collective, Architecture in Helsinki, and Pet Sounds
The one wonderful thing about the limitations of geography is when you don't have the means or money to travel great distances anything foreign…food, films, people, music…seems all the more exotic and intoxicating.
The Ruby Suns hail from New Zealand and while this country is certainly on the list of places to see before I die, who knows when I will find myself on their shores. In meantime I can embrace what has been a steady flow of great music from that corner of the world. (Signer/ Skallander/ Over the Atlantic, The Brunettes, Die!Die!Die! to name a very small sample)
As a kid I lived half way around the world from anything vaguely tropical unless you count the sun room in my parent's house which fogged up when my Mum ran the washer and dryer. My childhood summers were spent sun bathing on rusting lawn chairs positioned between slow moving lawn sprinklers with a sweating glass of ice tea and a pile of fashion magazines resting in the grass beside me. Sea Lion reminds me of those lost summers and the places I pretended to be when I closed my eyes in the backyard bathed in something that smelled like coconuts in a very unglamorous part of New Jersey.
Music from Brazil, more specifically Tropicalia (especially Os Mutantes) warm me in the same way because it sounds utterly different from anything I have known or heard before. (The me living not living in the 60's or South America) It carries the magic and mystique of a very far away place. I imagine it to be a soundtrack to a time I will never be able to visit and of a country I have yet to place my eyes upon. Warm, whimsical, wild, carnivalesque, and something that just sounds like friends enjoying themselves.
While Animal Collective are by no means from anywhere close to the Tasman Sea or an Amazon rainforest their music still sounds other worldly or at least something in spirit that is very far from the small town I was born into.
The Ruby Sons send audio postcards from an equally magical and remote place.
To drag this concept out a just a little farther, Beach and Surf music carry a similar distinction of sounding like a vacation to my ears. Even if the music was actually recorded in a studio in Minnesota during the dead of winter, it tricks my ears into feeling like I am somewhere that requires sunglasses and a bathing suit. Again not because this is actually reflective of the place or life the musicians have who make this music but because the sounds they create and the manner in which it is recorded transcend the norm I am familiar with and grounded to in a mundane daily capacity. I understand that the primary songwriter in the Ruby Suns Ryan McPhun is actually from California and rooted in metal but all of those realities get washed away in the breezy dreamy 60's toasty tube amp ride around the world his band takes you on.
Time travel and a vacation to multiple exotic locations is more than I could ask for in a record and just as importantly the band hasn't made the same record twice. Their move to Sub Pop with the release of Sea Lion is a perfect Jack in the Beanstalk stretch from their self titled debut; a record I loved so much that it made my best of list last year.