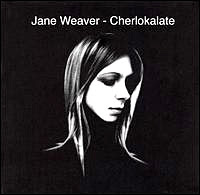 Artist -
Jane Weaver
Title - Cherlokalate
Hometown - UK
Label - B-Music
Street Date - Out Now
RIYL - Mazzy Star, vintage Cat Power, Tanya Donelly, Harriet Wheeler
Highlights - "Oh You Lucky Ones" and "I Already Coped"
Jane Weaver isn't playing dress up for any of us. Cherlokalate lacks all the smoke and mirror parlor tricks so many artists making records rely upon these days. There isn't an image we are trying to be sold on; this is all about a girl making a record as she really is. Call it naked, call it pure, call it basic, but there is something undeniably refreshing about a record that doesn't sound like it is trying too hard to be perfect or something it isn't.

I don't want to talk about who her husband is or who she knows or what old bands she used to play in, this record deserves to be given the direct approach- a kind of greeting this record gives the listener. What we have here is a record that carries the spirit of folk music and then rises it up like a kite to something closer to a melancholy pop record. Somewhere between the earthy tones and sky like openness, Jane's voice finds a horizon point where the two collide.

There is a nice little end quote from Jane on her MySpace page and I think it pretty much sums up the whole soul of the record in one neat sentence.

"I currently reside under an apple tree on the outer limits of Greater Manchester surrounded by the sounds of Linda Perhacs, Karen Dalton, Josephine Foster, These Trails and The Pink Fairies."

And somewhere Hope Sandoval is smiling.
Cherlokalate probably won't make my top 10 of the year list nor will it probably make yours for that matter. It does however offer a down right pleasant listening experience which I know doesn't scream BUY NOW but something closer to a buy eventually. At the very least be sure to check out the two songs I mentioned at the top of this post.