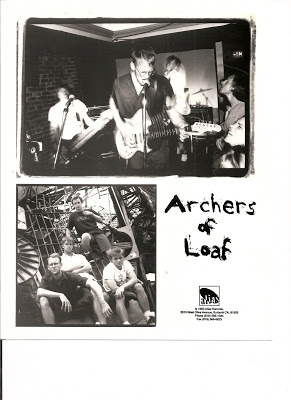 Once upon a time I, Lighting's Girl, was quite a fan of
Archers of Loaf
(still am) and saw them play live back in the day as often as humanly possible. If I had to name a band I saw in a live setting the most in my
(thats me to the left)
lifetime I would say Archers would make it into the top three - easy.
Here is a funny picture of me at one of their shows at Brownies in NYC singing along in what looks like a cross between ecstasy, rage, and constipation. The really funny part about this picture is their label at the time turned into a giant tour poster around the same time my old band was touring. We would pull up to a venue or record store and there would be this terrible picture of me up in some window or on some wall as big as car windshield.
And if you find yourself asking who is Archers of Loaf and what record should I check out the answer is simple:
Icky Mettle
is one of the ten best American indie rock records of the early 90's. Spazzy, angry, melodic in a backhanded way - think Built To Spill but more untamed and tipsy. I could argue that they are one of the best things to ever come from Chapel Hill.
I love them so much that I am even willing to eat their Fenders and now I have a picture to prove it.