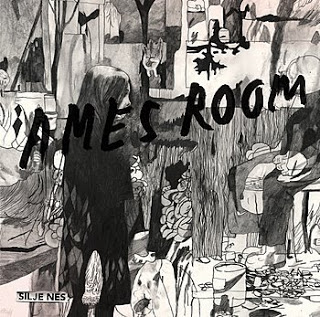 Artist -
Silje Nes
Title - Ames Room
Hometown - Norway
Label - Fat Cat
Street Date - Out Now
RIYL = PSAPP, Múm, New Buffalo, Juana Molina, Amiina
Favorite Tracks - "Ames Room", "Recurring Dream", "Searching, White"
Silje's bio says "the songs were actually written as they were recorded. Silje notes the importance of this presence that comes from recording spontaneously, with all its imperfections."
This isn't a pefect, finished sounding record, it sounds like audible notebook sketches tossed into a gentle breeze by a tiny little girl. Nes offers delicate, whimsical, and experimental electronic pop and in theory I should sleeping with this record on my pillow just to keep in near to me at all times but alas it is the unfinished feeling of Ames Room that leaves me feeling unsatisfied. I like vocals on a record to leave a deeper footprint any carry some sort of dynamic character but with Silje Ames every song tip toes into the next. Her barely audible melodies evaporate as soon as it exits my speakers...and half way through Ames Room, make me very sleepy.
If you are looking for the cotton candy of muffled pop (minus "Searching, White") then perhaps this is a record for you. The reviews of Silje I have read are all very positive so don't let my personal need for a less winded vocalist deter you from checking this record out.