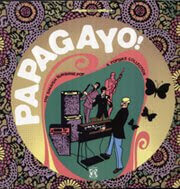 Artist - Various
Title - Papagayo! The Spanish Sunshine Pop and Popsike Collection
Hometown- Spain
Label - Toytown
Street Date - Out Now
The Hits: "Juventud", "Cuatro Estaciones", "Sunshine Boy", "Suenos", "Voy Buscando", "Pedire", "Todo Acoba"
RILY - American Sunshine Pop and Popsike, Spanish men with facial hair, hippies kids taking it to another level, los arcos iris arriba el asno AKA rainbows up the ass, the lonely hearts club band, Keith Partridge
First things first - it appears that Papagayo is a large gulf in Costa Rica as well as a violent wind from that area but I think it also means parrot in Spanish. Maybe somebody can correct me there? The genius middle school school system I was raised within only offered French and then for some reason I thought German would a nice change of pace in high school. That being said, Spanish is alien to me.
I have mixed feelings about collections like this. First of all, a well done comp of rarities is always a treat. When I say well done I mean the CD has quality material AND the packaging is thoughtful and thorough. The cover art here is great, the 14 page full color booklet in Spanish / English dotted with album cover art and photos is exceptional plus the music itself is exactly as the title of the comp reads : Spanish Sunshine Pop.
The problem with so many of these collections is while I love the obscure information overload, I only end up liking about 1/4 of the tracks. It might be fun to throw on during a dinner party or for background music but this isn't exactly a record I would play just to listen to alone. Collections like this act as more of a text book of a time or place rather than a a body of music I will come back to time and time again.
This raises a little guilt in me. Does this mean I am not as much of a Sunshine Pop fan as I though I was or is this collection just not that amazing? My only reference point is American music from the late 60's and early 70's and that is about it. Looking at all the covers of the record in the booklet I would undoubtedly buy every single one of them if I found them in a record bin. The catch is though - these kinds of records usually only have one or two good songs on them (if you are lucky) and this collection does us the consumer a huge favor by putting the best songs from these records in one place.
The liner notes tell me that Spain was under general Franco's Fascist regime and by 1968 the strict censorship of cultural activities had relaxed greatly. Certainly to be a musician pushing musical freedom built on a Sgt. Peppers spirit must have been very exciting and to be a listener of it all in the moment? I can't imagine how significant this swinging fun very American and UK inspired music was to its listeners and to a repressed country. Student revolts in Spain at the time were as common as cloudy days and knowing this political struggle of their youth movement it is easy to draw parallels to the the climate that gave birth to Tropicalia in Brazil.
Most of these songs are heavy on the Hammond, male / female harmonies, horn sections, layers of strings and what sounds like full groovy orchestration. Seriously you would think every band had 20 members with production as lush like this...20 members and a terrifying level of happy that it would take to create music this carefree and easy. This collection of songs makes the Mamas and the Pappas sound as if the grim reaper had a bad day. This is all the more poignant when considering the atmosphere in Spain during the height of this pysch-pop light movement.
Anything out of context can struggle on its own but in context Papagayo is as colorful as it is a force to be reckoned with.